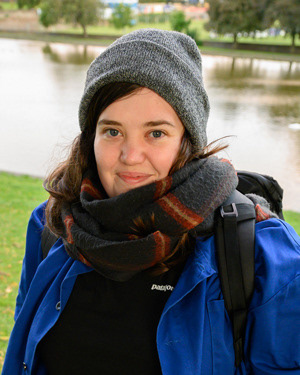 Hi, my name is Hannah Killoh. I'm an Edinburgh based illustrator, book designer, publisher and photographer.
After completing my BA Hons Photography degree at Edinburgh College of Art, I moved to Japan for three years to work as an English teacher. While in Japan I explored my passion for illustration, book design and photography. It was also during this time that I learned Japanese and now frequently use Japanese typography in my work. 
Since 2017, I've been living and working in Edinburgh as a Publishing Assistant for the National Galleries of Scotland and also working as a freelance designer and illustrator. 
hannahkillohdesign@gmail.com
Duck Feet
, 2020, Monstrous Regiment Publishing
So Hormonal
, 2020, Monstrous Regiment Publishing
Tokashiki Zine
, 2019,
Tokashiki
Exhibition, Hannah Killoh Design
The Bi-ble vol.1 & The Bi-ble: New Testimonials vol.2
, 2019, Monstrous Regiment Publishing
Monstrous Regiment Magazine: Emerald
, Issue 2, 2018, Monstrous Regiment Publishing
Monstrous Regiment Magazine: Crimson
, Issue 1, 2018, Monstrous Regiment Publishing
Across Patagonia
by Florence Dixie, 2017, Merchiston Publishing
Siren Magazine: Inspiring Women's Voices
, 2017, Merchiston Publishing
C The Art Issue
, 2016, AJET Connect Magazine (special issue) 
Amusement
, 2013, Self-published photo book
2019 – 
TOKASHIKI
, Patriothall Gallery, Edinburgh, UK
2018 – 
Artists at Work
, Scottish National Gallery, Edinburgh, UK
2014 –
Young Blood
, Leeds Gallery, Leeds, UK
2014 –
RSA:New contemporaries
, The Royal Scottish Academy, Edinburgh, UK
2013 –
Future Proof Award
, Peacock Arts, Aberdeen UK
2013 –
Edinburgh College of Art Degree show
, Edinburgh College of Art, Edinburgh UK
2013 –
The Human Condition
, Old Ambulance Depot, Edinburgh UK
2012 –
5 Months of Cheese Sandwiches
, Old Groningen Museum, Academie Minerva, Groningen NL
2012 –
Stamps
, Pit Gallery, Groningen NL
2012 –
The good, the bad and the ugly
, Old Groningen Museum, Academie Minerva, Groningen NL
2012 –
GLIMPSE
, Henk Slomp Gallery space, Groningen NL
2012 –
't Barre land
, Grand Theatre, Groningen NL
2012 –
Blue Grass (Fotocol)
, White Space Gallery, Edinburgh UK
2012 –
Subject to the Elements
, Captain Taylor's Coffee House, Edinburgh UK
2011 –
Ragged Arts Exhibition
, Arts Complex, Edinburgh, UK
2011 –
2nd Year Photography
, Edinburgh College of Art, Edinburgh, UK
2011 –
Foam Collective
, Henderson Gallery, Edinburgh, UK
2009 –
So Far
, Arts complex Gallery, Edinburgh UK